Dying without a Will is a choice. You can choose whether to take the time to prepare a Will, or you can delay, postpone and procrastinate. But it is important to understand the consequences of dying without a Will, not just with the distribution of your possessions, but also with the "estate administration" process.
Hopefully at the end of this article the question in the title will be answered for you. It NEVER makes sense to die without a Will. It is a decision that you make that doesn't impact you significantly (you will be dead), but it has serious repercussions for your family and loved-ones.
Dying without a Will – the first few days
If something were to happen to you today, there is a good chance that your family would be struggling with grief. But quite quickly actions need to be taken and this would fall to your "next-of-kin".
Although the UK doesn't have a legal concept of "next-of-kin" it generally means your closest relative.
If you die without a Will, the responsibility for taking care of everything will fall to, in order;
Your spouse or civil partner
Your children (including any legally adopted children, but not step-children)
Your parents
Your siblings
So let us think about this for a moment. If you died in your senior years, but you didn't have a Will, your aging, grief-stricken spouse would be responsible for administering your estate.
If you do not have a spouse, then be prepared for a squabble between your children as they try to assert their rights to administer the estate. This includes gathering and securing assets.
If you have taken the time to write a Will, you would have named an Executor. This is the person that you have chosen who you trust, has the necessary skills to administer your financial affairs, has the energy to work through the probate process, and the right personality to work with family members.
This is rarely your next-of-kin.
The service at LegalWills.co.uk allows you to name up to three Executors, along with backups.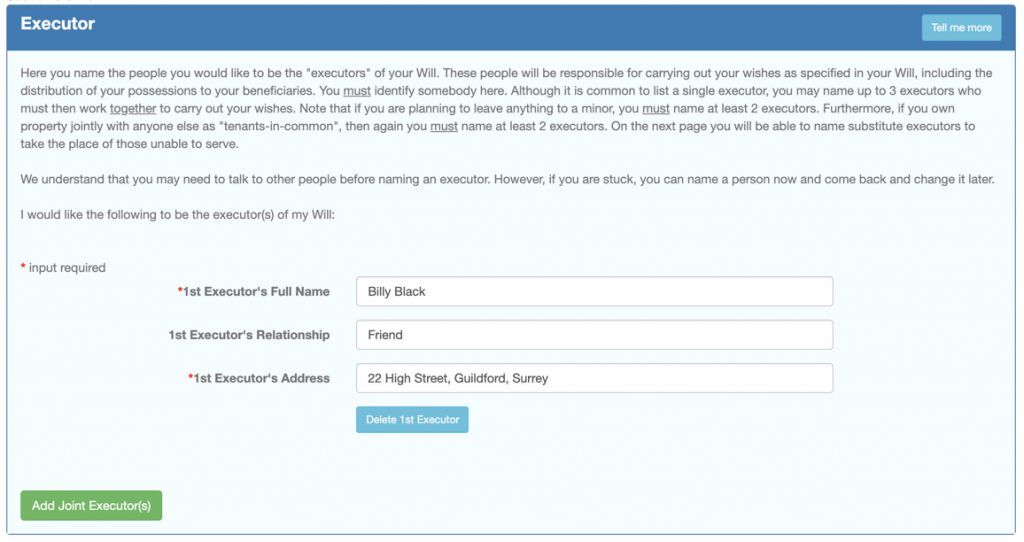 Securing your assets
It is not uncommon for family members (particularly children) to start moving possessions that were promised to them, particularly if some children have access to property that other children may not have. Often one child may live more locally to the deceased parent which provides them with far greater access to the assets of the estate.
In the days after a person dies, no inventory of the estate has been documented. It is one of the first responsibilities of the Executor, but with no Executor named, family heirlooms can disappear.
When you write your Will, not only would you name your Executor, but you would also let your Executor know that they have been appointed. With this knowledge, they will be able to act very quickly to secure the assets.
If there is no Will, all assets are frozen. There are many stories in the news of how this can impact loved ones.
I remember sitting in my bank, baffled that, while on paper I had what seemed fairly considerable assets (a share of quite a large country estate with a house, land, outbuildings, cottage, and a London flat where I now lived), this was not enough security against which to borrow. I said I just needed a loan to live on until the estate was administered, then I would pay it back with interest. But the bank said no. I had been with them for 40 years and still they declined me. If you do not have a Will, all your money will be frozen, accounts immobilised.

Daily Mail, October 2016
The Probate Process
Technically the Probate Process only applies if you die with a Will. Without a Will, your "next-of-kin" can apply to be the administrator of the estate.
If you have a partner, but you are not married (or they are not your legal civil partner), then this person cannot apply to be your estate administrator. They also have no rights to receive anything from your estate.
If you have written a Will, then the Executor can simply apply for probate directly online. It's a simple process.
If you have not written a Will, then your "Next-of-kin" must complete form PA1A and then send the application in by post.
The cost for probate is the same whether or not there is a Will, but the process without a Will is much slower.
The Distribution of your estate
This is perhaps the most significant difference between dying with and without a Will. The distribution plan for dying without a Will is best illustrated by this flow chart.
In October, 2014, the intestacy distribution laws (the laws that determine who receives what if you die without a Will) were overhauled. It used to be that blood relatives were all entitled to a slice of an estate. But since 2014, if you are married, your parents, siblings and nieces are unlikely to receive anything at all from your estate.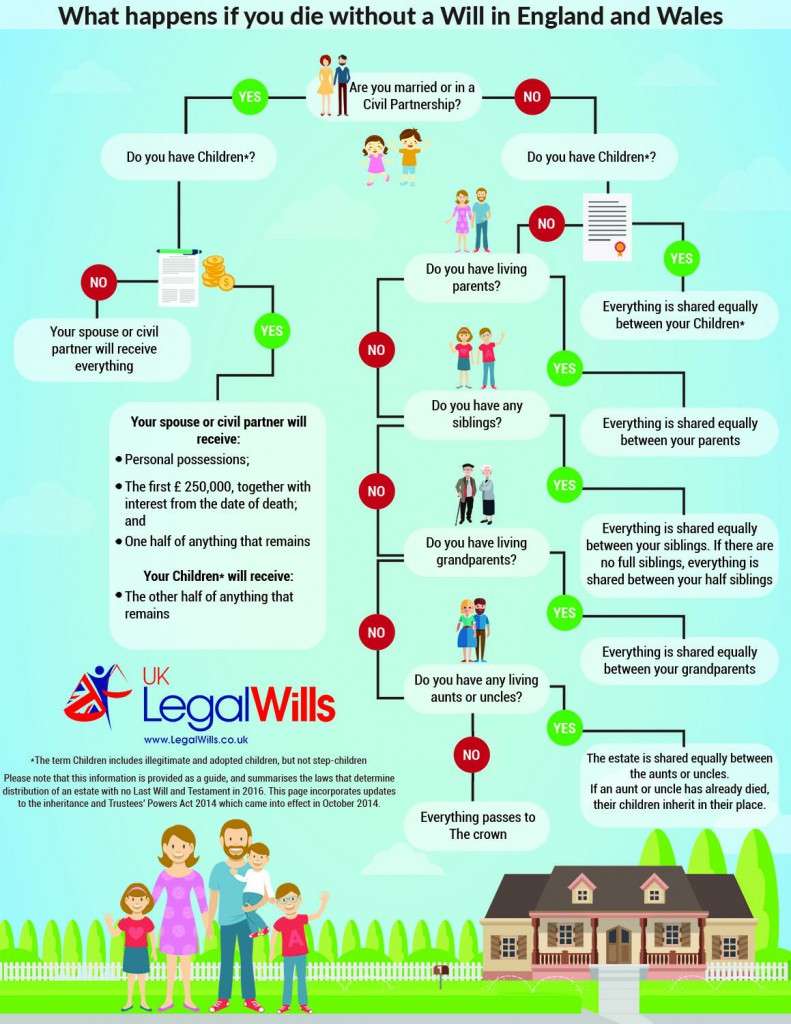 The law may even change again before you die, so it is actually possible that you have absolutely no idea who will receive what from your estate if you died without a Will.
The first thing to note is that there is no legal concept of a "common-law" spouse. If you are not married, nor in a civil partnership, and you die without a Will, your lifelong partner is entitled to nothing from your estate.
In 2014 there was significant lobbying for the recognition of co-habitees who had lived together for more than 5 years. This was ignored, and the law continues to not recognise co-habiting couples who are not married or in a civil partnership.
Also, it's worth noting that one of the key misconceptions is that if you are married, then everything automatically goes to your spouse. If you have children, this is not the case.
Depending on the size of your estate it is possible that your children and spouse will share the assets. In order to make the appropriate division of the estate, some assets would have to be sold, this could even result in the family home being sold in order to give your children their share of the estate. There have certainly been many situations where a grieving spouse has been forced to sell and move out of the family home which must be divided between them and a number of adult children.
Dying without a Will with a stepfamily
This is where things can get very complicated. If you are married, but your spouse is not the biological parent of your children, then intestate law has most of your estate passing to your spouse.
There is every chance that after you have died, your spouse could lose contact with your children, and certainly not include your children as part of their own distribution plan.
The result is that your own children will ultimately be completely disinherited from your estate.
Dying without a Will with no relatives
Finally, if there are no known relatives, the entire estate passes to the crown, or as this article explains, in Cornwall, it will pass to the Duke of Cornwall.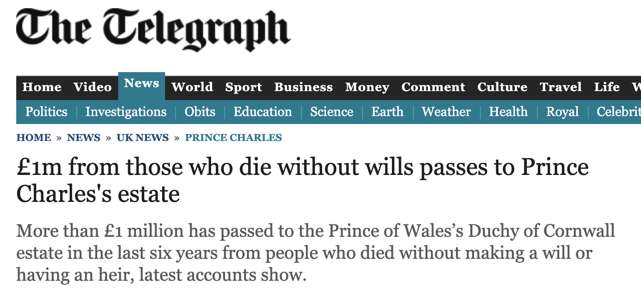 Realistically, it's not a common scenario. It is more likely that a distant niece or nephew would appear and claim their inheritance, but it absolutely can happen.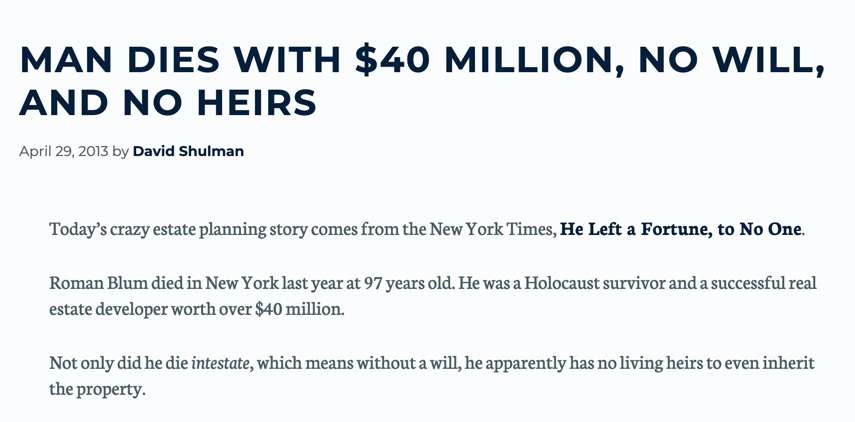 The Power of your Last Will and Testament
A Will is a very powerful document that can do wonderful things. It is such a pity that the majority of people don't take the time to prepare their Will. Here are just six important elements to a Will that can make life easier for the people that you leave behind.
Critical appointments
There are two critical appointments in your Will. Your Executor. This person can immediately step up, secure your assets, take charge, arrange your funeral start working with HM Customs and Revenue, Probate your Will and administer your estate. Time is of the essence, and it is important that this person knows that they have a job to do, and that they are empowered to do it.
Your Will also allows you to name Guardians for young children. If you do not have a Will, then a judge in a courtroom will make this appointment for you. If you have young children, this one factor alone should be enough to prompt you to make a Will.
A judge is not going to know your family or relatives. They will not know which people share your values, your parenting philosophy or have good relationships with your children.
Should your children be with your sister who now lives in Canada? or with your parents who are now in their seventies? or your neighbour who the children call Auntie?
It should be your decision, not left in the hands of a judge.
Specific bequests to friends
I loved the story of Roger Brown. For forty years he had been a regular at his local pub, and of course, over that time has forged many close friendships. He died at the age of 67 of prostate cancer, but used his Last Will and Testament to great effect. He left £3,500 as a specific bequest in his Will to seven of his drinking pals, to enjoy a "boozy weekend in Europe".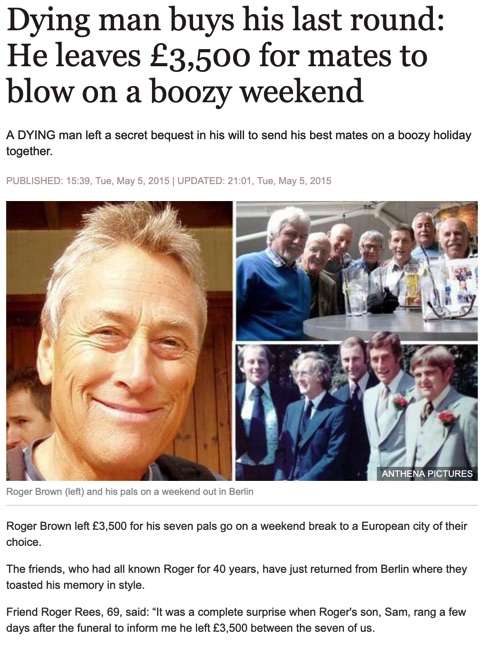 If you have a nephew who loves music, maybe you could give them your piano. Your sister always wanted to go on a cruise, you can make that happen. Your grandson loves Arsenal, leave him the money for a season ticket.
Your Will is powerful, and can give joy to many people. It's a missed opportunity not to prepare one.
Charitable bequests
An extension of the specific bequests is a bequest to charity. Many of us are working with a tight budget, and it can sometimes be difficult to be charitable throughout our lives. But our Wills give us a chance to leave a sum of money, or even a percentage, like one percent of our estate to charity.
This kind of bequest has very little impact on our other beneficiaries, they still get to share the other 99 percent of the estate, but it can mean a few thousand pounds going to a charity that would be able to put it to good use.
You can choose where your charitable bequest goes; to an organisation doing good work in your town, your church, animal charities, environmental causes.
The service at LegalWills.co.uk has a page dedicated to charitable bequests.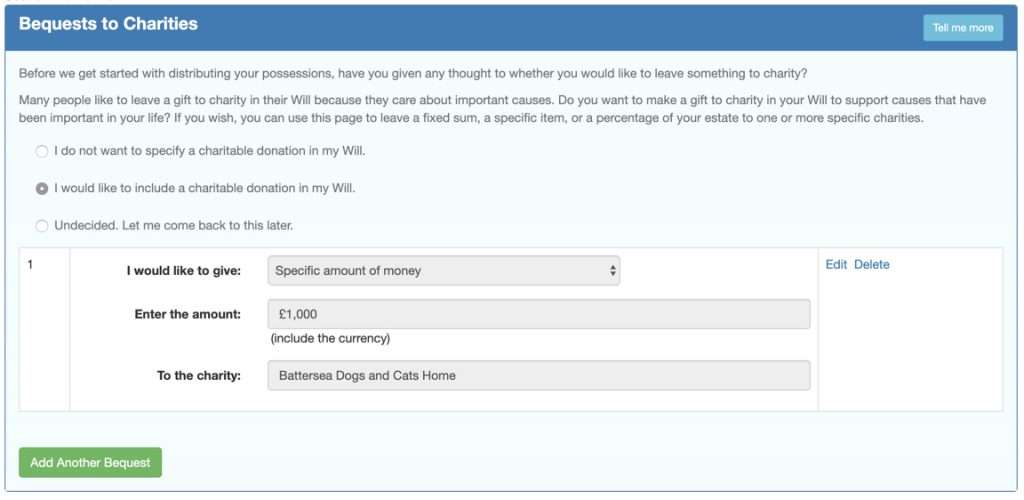 We are already working with some charities who have embedded our service within their own website. Like Brainstrust on their Leave a Gift in your Will page.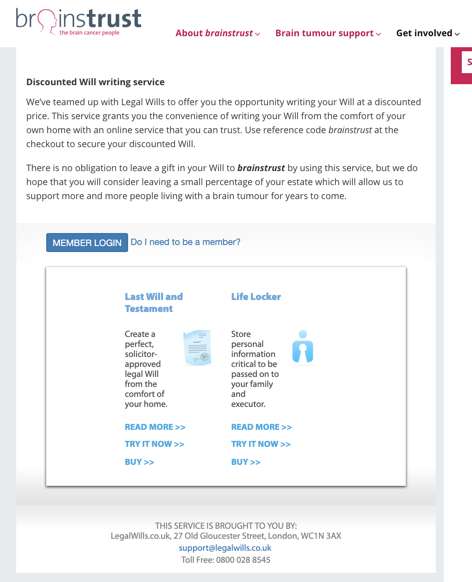 Lifetime interest trusts
You Will is vital when you live in a step family, or "blended family". When your spouse is not the biological parent of your children. You can leave everything to your spouse as a "lifetime interest" meaning that they can live off the proceeds of the estate, and continue to live in your family home. But when they pass away, the estate goes to your children.
Pet trusts
Did you know that in your Will you can make provisions for your pet? You cannot leave money to your pet, because legally a pet is a possession. It is not possible to name a pet as a beneficiary directly in your Will.
But you can set up a trust for the care of your pet. The service at LegalWills.co.uk allows you to determine an annual maintenance stipend, you can name the caregiver, and also calculate the number of years the trust will stay in effect.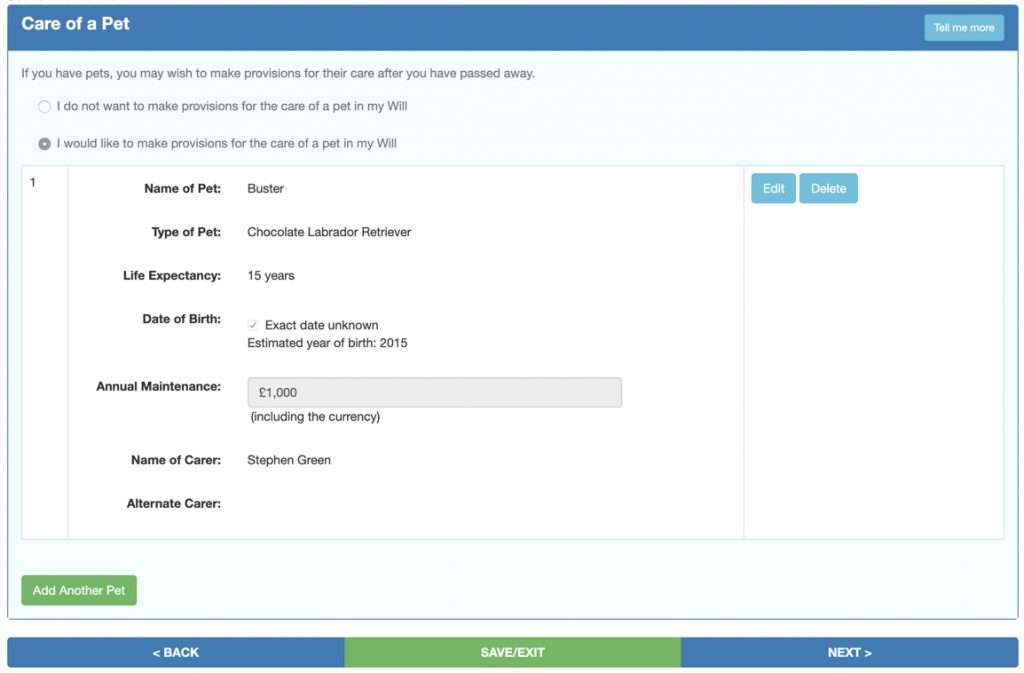 Backup plans
Sometimes it is obvious what will happen to your estate when you pass away. You may not have children, and you know that everything you own will pass directly to your spouse.
But what if you and your spouse were both involved in an accident at the same time?
Often it is these "what if" scenarios that form an important part of the Will. It is also one of the most challenging aspects of compiling the Will.
What happens if one of your children pre-deceased you, where would their share go? to their spouse and children, or to your other child.
We know that many people have to stop and save their work at the page asking for alternate plans, as it is usually less obvious than the first choice distribution plan.
When is the best time to write a Will?
I recently read an interesting piece of advertising for a Will service. It said "a Will is the last thing you need…..how is your timing?". It touches on an old idea that people plan to write their Will just before they die. Even on their deathbed.
This came from the traditional approaches to Will writing which were expensive and inconvenient. So much so that people generally wanted to only do it once in their lifetime, so it better be right, and not need changing.
They would wait and wait for that perfect time in their life when nothing was going to change.
But with Will writing services like ours at LegalWills.co.uk, you can update your Will as often as you wish.
You should prepare your first Will shortly after you become an adult, at 18. You should then update it to reflect any changes in your personal or financial situation throughout your life.
There is never a point in your life when you should not have a Will in place. Just in case.
How to write a Will
There's really no excuse for dying without a Will with today's technology available to you. We have been offering the service at LegalWills.co.uk for over a decade now. The process takes about 20 minutes, and costs £24.95.
You simply step through ten sections, answering the questions as you go. At the end, your Will is compiled based on the responses to the questions. You can then download the document as a PDF file, which should be printed.
You then sign the document in the presence of any two adult witnesses who are not beneficiaries in the Will.
Once signed and witnessed, you have a legal Will in your hands. A document that can save your family and loved ones from months or years of acrimony and anguish.
Tim Hewson is one of the founders of LegalWills.co.uk.

He has over 19 years of experience helping people to write their Will and other estate planning documents. He has been interviewed by many of the major news media outlets and has contributed to articles in most leading publications. He has also contributed to a number of financial planning books.

Throughout his career, Tim has written extensively on the subject of Will writing and estate planning.
Latest posts by Tim Hewson (see all)