A Last Will and Testament is a document that makes key appointments for you, and describes the distribution of your assets, after you have passed away. So how is it possible for this document to cost £1,000 to create with a solicitor, or be completely free if you download a form from the Internet.
Why does the Will service at LegalWills.co.uk cost £24.95?
Please allow us to explain.
Different approaches to writing a Will
There are essentially four approaches to writing a Will;
Work with a professional Will writer
Use a solicitor to write your Will
Use an online service, or interactive software
Use a blank piece of paper or fill-in-the-blanks form
Option 1: Work with a Professional Will Writer
We need to make the distinction between a solicitor, and a "professional Will writer". Will writing in the UK is an unregulated profession. Anybody can set themselves up as a Will writer, no qualifications are required.
Whilst there are some professional bodies, there is no requirement to be a member of a professional body in order to offer Will writing services.
In fact, a number of people quickly realised that Will writing can be a lucrative business, so businesses started cold-calling and hard-selling Will writing services. What makes it a particularly good money spinner is the "add-ons" that come with it. We received a copy of this letter intended for a Will writing company.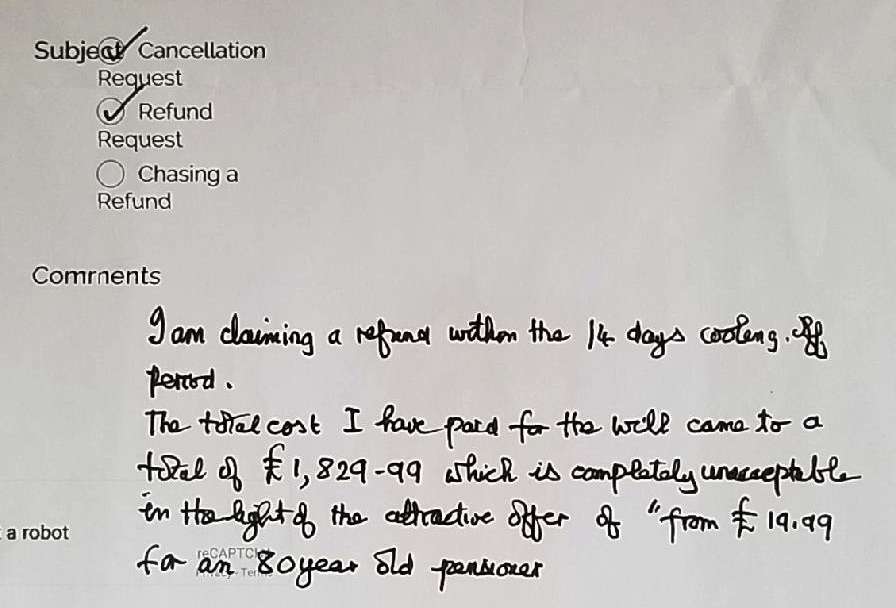 Sadly, we don't know what became of this request, but some Will writing companies pay their staff on commission, so employees are generally rewarded based on revenues generated.
These companies are growing fast, and seem to be always advertising for new recruits.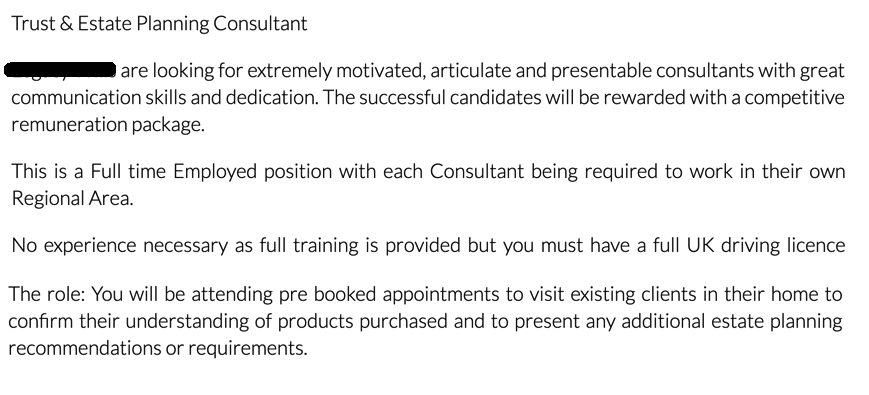 This company offers two weeks of training in order to become a "Trust and Estate Planning Consultant.
We did write an overview of what to look for in a Will writing company to hopefully expose some of the warning signs.
How much does it cost to write a Will?
Usually, there is a low up front cost in preparing the Last Will and Testament. As low as £19.95, but the revenue is mainly generated in the up-sells. These can include items like
Lasting Power of Attorney (LPA) – which you shouldn't really pay for because they can be created free of charge on the government's website.
Will storage – again, a complete waste of money, you should simply give your Will to your Executor in a sealed envelope. The company won't know that you've died, and your loved ones won't know that the company has the Will. Furthermore they charge monthly or annually, and then charge your loved ones to retrieve it. It is a complete rip-off.
Appointing the company as Executor. The most lucrative of all because the fee is based on a percentage of the estate. So transferring ownership of a house can rack up a charge of £20,000 for half a day's work.
Any else they can think of; printing the document, reviewing the document, preparing funeral wishes, unnecessary trusts, updating the Will.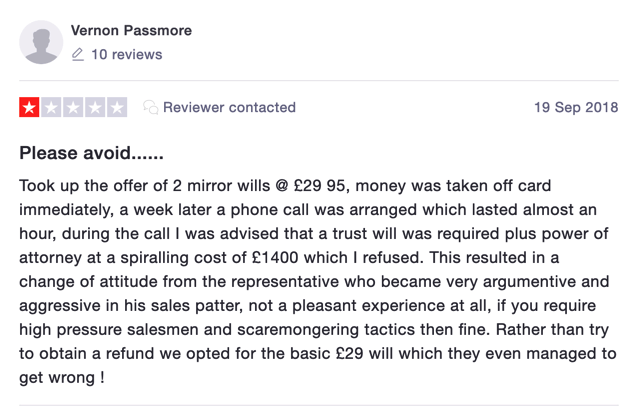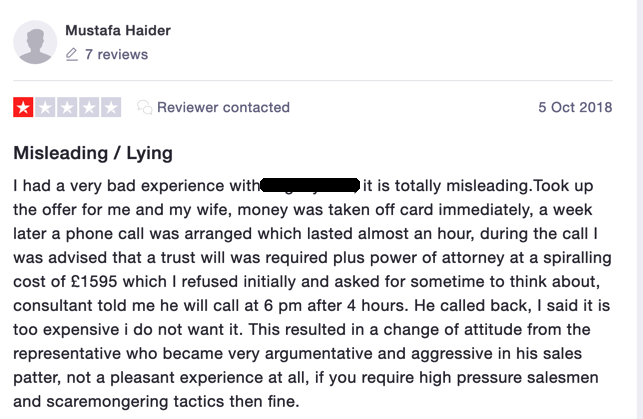 Why does it cost this much?
The Will writing is generally the loss-leader. It is enough to get the representative through your door and into your home. The intent would then be to up-sell to other products. No professional Will writer is going to travel to your home, have a one hour appointment, go back to the office and prepare your Will. Then return to your home with the Will all printed, all for £19.95 !!
Who is this for?
There are some advantages of this approach. It works well for people who prefer not to leave their home; usually the services offer home visits. It can be a good option for people who feel more comfortable talking through their needs rather than writing everything down. These services can also make you aware of options that you may not have been previously familiar with.
If you are strong in resisting the up-sells, then this could be a good option for you.
Option 2: Use a Solicitor to write your Will
We have to make a clear distinction between professional Will writers and solicitors who specialise in estate planning. But also be clear that not all solicitors specialise in estate planning.
If you do work with a solicitor with experience in Will writing, you should be talking to somebody with years of training and experience. This is a great option if you have legal questions for which you need a legal opinion. Solicitors are experienced with the law, they keep up-to-date with legal cases, and understand what you can and cannot do.
Solicitors also have professional liability insurance if things go wrong.
However, it is the most expensive approach (putting aside the dubious up-sells from the Will writers), and least convenient. Not many solicitors offer home visits, so you will have to potentially arrange time off work, and if you are married with young children, this needs to be co-ordinated with a spouse, and childcare.
How much does this cost?
This is one of the challenges of working with a solicitor. You are rarely quoted a fixed fee up front. The cost of the Will depends on the complexity, and nobody knows this until you start getting into the discussions. Generally speaking a Will written by a solicitor costs between £200-£500.
However, the catch is that updates to a Will generally cost hundreds of pounds each time. There are many reasons why you may need to update your Will to reflect not only changes in your own personal or financial situation, but also anybody named in your Will.
Also, many solicitors strongly encourage you to name them as the Executor of the Will. This is a very lucrative part of a solicitor's business and it even allows them to drop the price of the Will writing. Executor fees are usually set as a percentage of the estate, and solicitors often double dip by charging hourly rates on top of this. The Guardian newspaper exposed this as the great "£600M rip-off".
Why does it cost this much?
A solicitor can give you legal advice specifically for your situation based on their legal training. Tuition for legal training is expensive, and so according to the lawyer.com a first-year trainee solicitor working in London makes about £30-£45k a year, with a newly qualified solicitor making as much as £143k a year. Outside of London, the salaries are more down-to-earth, but according to totaljobs.com the average solicitor salary is £42,500.
The process of writing a Will can be surprisingly simple even for a solicitor. Many solicitors use software to prepare their Wills; favourites include "Parker's Modern Will Precedents" which allows the solicitor to enter key information on behalf of their client, and the clauses are compiled for them. Not many solicitors type a Will starting with a blank sheet of paper.
So, you do have access to legal advice (which you may or may not need), but it will come at a cost.
Who is this for?
This is a great option for anybody who feels that they would benefit from receiving legal advice about their situation. This could include somebody with a child receiving disability benefits who wants to be certain that any inheritance wouldn't impact those benefits. Or somebody in an unusual family situation where for example, they want to disinherit their spouse and their spouse doesn't know about it!
Any situation where you are unclear on the legalities of what you are doing would benefit from receiving the specialist with legal training.
Option 3: Using a piece of paper or fill-in-the-blanks form
There is not much difference between writing a Will using a fill-in-the-blanks Will kit, and having a go yourself with a blank sheet of paper. The idea is that if you write at the top "this is the last Will and Testament of me, John Smith." Then you describe what you want to happen, and then you sign it at the end (preferably with two witnesses), then in theory you have written a Will. As an aside, a Will written entirely in your own handwriting is called a holographic Will and doesn't need two witnesses.
The law allows you to do this because everybody has a right to prepare their own Will, and if you are stuck under a rock, this might be the only option available to you.
The problem is, your Will is almost certainly going to be riddled with errors and omissions.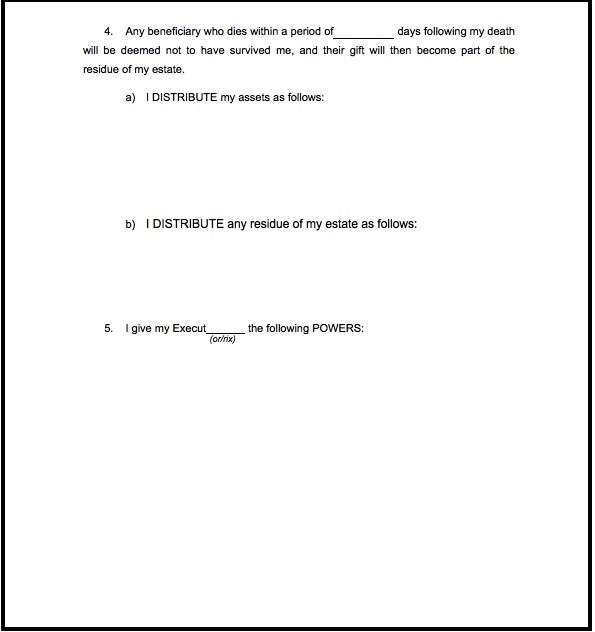 This is a blank form Will kit that we purchased. I am not sure how they expect somebody to complete the Executor powers section. This question belongs in a law degree exam paper, not in a do-it-yourself Will kit.
This one is even worse. It is a genuine Will kit that we paid for.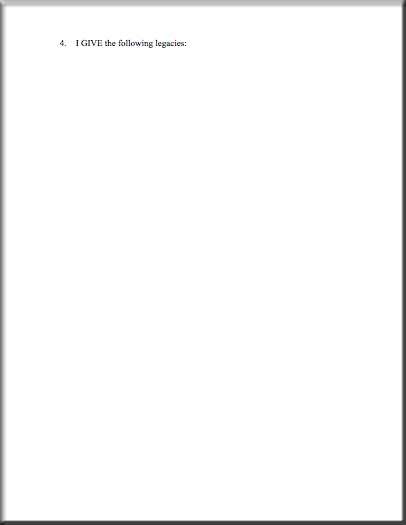 This is inviting people to list every possession that they own. A terrible mistake.
One of the most serious shortcomings of this approach is that they rarely cover the "what-if" scenarios. If the first choice plan cannot work for whatever reason (for example, if you and your main beneficiary are both involved in an accident at the same time), then what happens?
How much does this cost?
The beauty of this approach is that it is incredible cheap and sometimes even free. If this is offered as a downloadable form, there is no cost to the website. If the company charged £1, they would be making a profit.
Why does it cost this much?
There are no overheads in offering a document like this. Suppliers of blank form kits rarely offer any customer support, they usually don't have an office, they don't keep documents up-to-date to reflect law changes, they don't have to worry about any legislation like GDPR. In fact, the downloadable form can be set up by a couple of 8 year olds. You wouldn't know.
Who is this for?
I'm struggling to find a good fit for blank form do-it-yourself kits. Clearly people on a very limited budget, but you also have to be extremely clear in your intentions, so you should be well educated and articulate.
In general, these blank form kits should only be used in desperate situations.
Option 4: Using online interactive software
There are a number of different services providers offering Will writing in the UK, and it seems that a new one crops up each year. We have actually written a review of online Will writing services to give you an idea of what it on offer. We took a look at the comprehensiveness of the service, pricing, user-friendliness and quality of customer support.
Online Will writing services typically guide you through the process. You enter your family information including ages of any children if you have them. You are then prompted to name guardians for young children, name an Executor, and then guided through the process of distributing your estate including any backup plans.
The document is then compiled based on your answers, and your final Will is available for download. It would then be printed and signed in the presence of two witnesses to make it a legal Last Will and Testament.
Many online services allow you to set up an account and make updates to the document as circumstances change.
How much does this cost?
Prices range from £24.95 to £90 for the leading online Will writing services. Some offer discounts for couples, and some have a pricing scheme to take into account future changes to the documents.
Why does it cost this much?
How do individual online Will writing services set their prices? Honestly, I have no idea. The pricing is not correlated with the quality and comprehensiveness of the product.
Many companies have high advertising budgets, particularly for paid online ads, some have large teams and a large salary budget.
On the other hand, some companies charge less because they use your data as a revenue stream.
There are two important cautionary notes about online services. Be wary of services that advertise as being free; the most popular claim to be free but still require your credit card and then charge you on a monthly basis until you cancel (if you notice).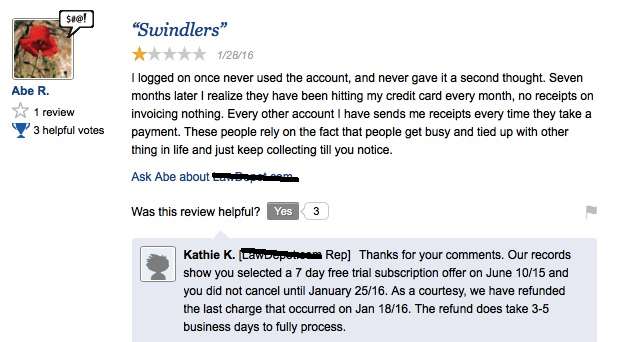 Others don't charge you for the Will writing portion, but you may not notice that they have inserted themselves as the Executor of your Will, for a percentage of your estate.

Who is this for?
Online Will writing services are incredibly convenient and cost effective. Over the years they have become more sophisticated and the good ones can cover most situations. They work well for busy, price conscious consumers.
These services are particularly appropriate if you expect to be making changes to your document over time.
But you have to be comfortable using a computer and entering your information into an online service. In addition, you are usually expected to pay directly online, so you would need to be comfortable with entering credit card details or using something like a PayPal account.
However, these services do not offer legal advice for personal situations. So if you are unsure about the legality of what you are trying to do, then you should work with a solicitor.
Why does LegalWills.co.uk charge £24.95 for a Will?
There are two ways to address this question; firstly in terms of costs, and secondly in terms of value.
The cost of providing the Will writing service
Our company is incorporated, which means that we have liability insurance, health benefits to employees and all of those typical business expenses. Our top four costs are customer support, software development, advertising and legal.
We pride ourselves on a customer support. We do not outsource this part of our product offering and we do not charge for it. It is primarily because of our trained support team that we have over 60 five star Google reviews.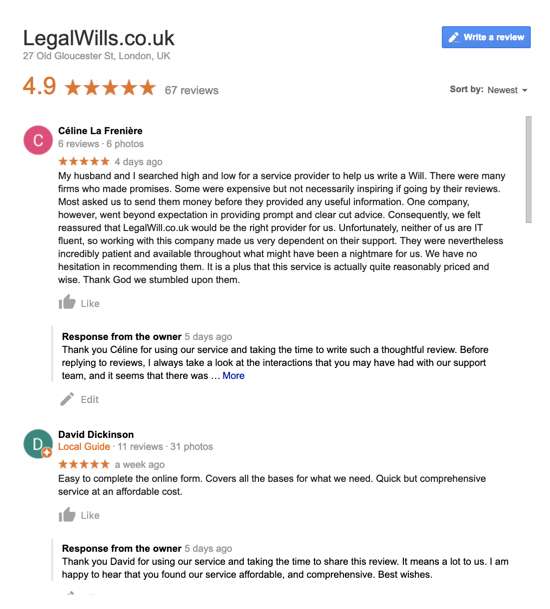 Our software development costs have gone into developing what we regard as the most complete online service, which brings us onto the value.
The value of our services
We are the only Will writing service that offers a complete portfolio of products to help you with the entire estate planning process. Our Wills alone stand out as the only service with pet trusts, charitable bequests, lifetime interest trusts and options for covering assets outside of the UK. We are also the only service with a built in Mirror Will feature that allows you to move data from one account to the other.
Beyond that, we have developed a number of unique value-added services. We offer a Vault to upload important documents for your "Keyholders". We have our LifeLocker services that ensures that your assets are discovered by your Executor. We have a free MyFuneral service, as well as a Messages services that allows you to write messages to be distributed to loved ones after you are gone.
After 18 years of offering this services we have a team of software developers writing code all day, every day, to make our service better and better.
Furthermore, all of our revenue comes from selling our products. We do not sell, trade or exchange customer data, we do not sell advertising space, we do not send out "partner offers" to you by email.
We never keep your credit card details on file, and never automatically charge you anything. There is never anything to cancel, and never mysterious charges showing up on your credit card statements. We also offer a full 30 day money back guarantee.
If you have any questions, send us a note. We would love to hear from you and we are very happy to answer your questions.
And if you are ready, write your Will. It takes 20 minutes, and as you know by now, costs £24.95 ! (and £14.97 for a Mirror Will).
Tim Hewson is one of the founders of LegalWills.co.uk.

He has over 19 years of experience helping people to write their Will and other estate planning documents. He has been interviewed by many of the major news media outlets and has contributed to articles in most leading publications. He has also contributed to a number of financial planning books.

Throughout his career, Tim has written extensively on the subject of Will writing and estate planning.
Latest posts by Tim Hewson (see all)